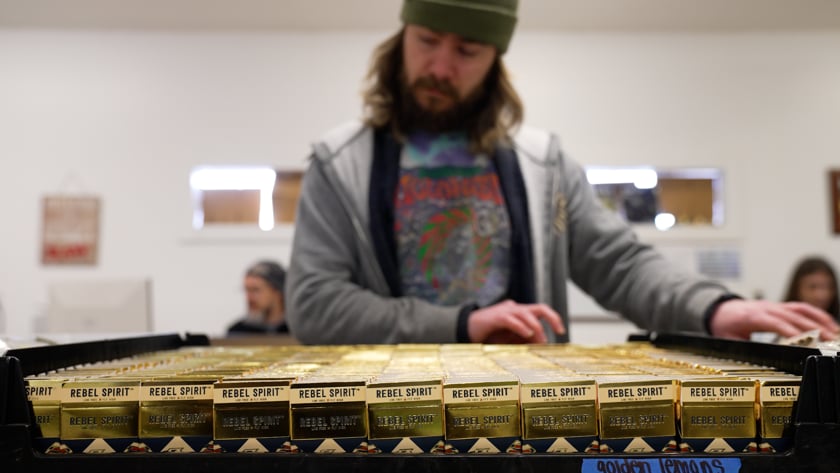 We're in Salvador, Oregon. This is Greenhouse 10. This is our mum and Veg greenhouse. This is light speed. This is one of my favorite strains. My role is COO. I do everything that Diane doesn't do.
I'm the CEO of Rebel Spirit and I do CEO stuff. We've been in business for eight years and we started when cannabis became recreationally legal in Oregon,
But I think we have a great brand. We worked really hard as a real story behind it.
We created the farm kind of with the idea of honoring our family friend, whom we call Uncle Mark, and because he had gone to prison in the 1990s for growing cannabis in northeast Washington and unfortunately got sick and died in prison, and so we were really sad about that and thought, well, we're going to do this in a way to kind of give him a happier ending. And so our farm is actually named Uncle Mark's farm and Rebel spirit is Mark. He's our rebel spirit. In the beginning of 2019, we redesigned our packaging and our sales took off at that time.
At that point, we were manufacturing 300,000 pre-rolls a month, and we had a crew of around 22 pre-roll manufacturers.
It ended up that we were in kind of an economic crisis with regard to needing to cut costs,
And we knew, I knew that we couldn't sustain our growth or even the 300,000 pre-rolls a month that we were manufacturing at that point.
Chris did a lot of research into pre-roll machines, and he found, all of them came up wanting,
They either failed in one area or another, and that was either they didn't have the right vibration or they didn't have the right tamping.
We heard about role pros that another farm in Oregon was using them and checked it out and decided to investigate that for ourselves.
Well, the first thing we do is we grab a cup of our product here, load it up into the hopper. At Revel Spirit, I do a pre-roll production working with the Roll Pro machine. Test your paper settings here, make sure that your paper is get glued, and
everything was good.
When I saw the machine, I was like, wow, that's really a great looking machine. Simple, elegant, small footprint.
Each strain runs through the machine a little different, but once you keep it dialed in it, it runs really smooth.
Each strain runs through the machine a little different, but once you keep it dialed in it, it runs really smooth.
Front to back. They just burn consistently. There's no canoeing or anything weird like that. They just burn like a cigarette. Basically, you're getting your money's worth.
I would really like it if 10 years from now when I'm retired from this Rebel spirit, the Scrape brand and everybody knows Rebel Spirit and can pick up a pack of rebel spirits anywhere in the nation, and they're rolled by role pros and that we could work together to make it happen in a nationwide way. Those are our goals.
Even to operate operation with Machine One for about almost a year, and the second machine, we're going on six months and we're about at 1,000,300 thousand. Anyone who's going to purchase an automated machine should seriously take a look at a different approach such as Roll Pros, a cigarette style, versus utilizing cones and utilizing these automated machines that well, they're just not currently capable of producing big quality.